E Class Explorer Yachts
Explore the world in style & Comfort
The new ecHo range has been developed in response to the demand for yachts that offer exceptional efficient hull, minimal environmental impact without any loss in comfort or amenity. Designed by Humphreys Yacht Design, the ecHo name is a melding of "eco-friendly" and the Humphreys name. The first model to be introduced is the E85 ecHo, and in keeping with the ethos that underlies the concept it has been created to be as much a destination in its own right as a means of travel. The ecHo range offers luxurious, long range cruising to those for whom the journey is just as enjoyable as arriving.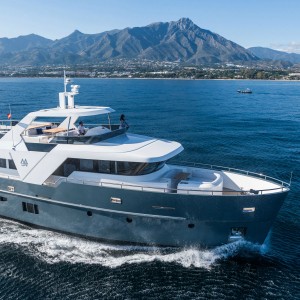 Explorer Yacht MFY E85 ecHo
The first model in the new ecHo range, the 85 is a highly capable, long distance yacht that...
Details
We are ready to help
Call us…
+886 7 802 0345 -111
Thank You.